I am Sandra Hill. I am a wife, a mom to 4 beautiful children, an R.N at a busy clinic and a Newborn Photographer located in Brantford Ontario.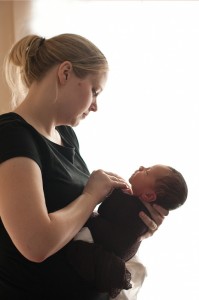 Thank you for considering me to take such important first images of your newborn baby. Never again will you be able to capture images of your baby's first days of life. Never again will they be this tiny, curly, wrinkly, sleepy…brand new to the world.
I have chosen to specialize in newborn portraiture because I have a passion to capture those special first few days of life, and a passion for Art. I believe to be amazing, you must LOVE what you photograph.
Choosing your newborn photographer is a hard decision, as more and more people buy cameras and call themselves "photographers".  Many of these "cheaper" photographers don't have the experience needed to get amazing images at every session. I have photographed over 300 newborn babies. I am also a registered nurse and a mom to 4 children myself. I have learned a lot over my years photographing newborns and I take newborn safety very seriously.
As a mommy myself, I know how fast these days disappear. These images are just as or even more important than your wedding photography. Don't let this time slip away without capturing it.
I want to be your newborn photographer.